July 22, 2005

<![if !supportLineBreakNewLine]>
<![endif]>
<![if !vml]>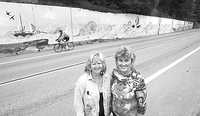 <![endif]>
<![if !vml]>

<![endif]> Kimberly Hardin and Pat Emard facilitated the painting of a large mural along Frontage Road in Aptos. The wall used to be covered with graffiti. (Dan Coyro / Sentinel)
---
Community paints ĎThe Great Wall of Aptosí
Students cover graffiti with mural
By SORAYA GUTIERREZ
Sentinel staff writer
APTOS ó Artists are doing their part to stamp out graffiti while adding color to the community.
A group of about 20 students from Kimberly Hardinís Art Studio used a wall on the north side of Highway 1, on Soquel Drive between Rio del Mar and Freedom boulevards, as their canvas and spent two weekends painting it.
The finished mural, 10-by-260 feet, was transformed from a dull wall to a bright depiction of all things Aptos ó from the ocean to the redwoods to the cliffs.
The new and improved wall is being hailed as "The Great Wall of Aptos" by Karen Hibble, executive director of the Aptos Chamber of Commerce.
She said the mural is part of a chamber subcommittee project to "find things to beautify in Aptos."
Aptos has a few spots that get tagged frequently, she said, like big power boxes and railroad trestles. So with the help of a $500 donation by community members and donated paint from Kelly Moore Paints in Santa Cruz , artists were called upon to help deter graffiti at this often-hit spot.
"Taggers generally will respect art," Hibble said.
†When local art teacher Kimberly Hardin was approached about the enhancement project, she said, "This was perfect for me."
Hardin, who has directed her Soquel Drive art studio for eight years, said the project was an opportunity for her students, ages 5-19, to share their talent with the community instead of keeping it inside the studio.
"We were just really into it, and itís such an incredible thing to do," Hardin said.
Although graffiti is not considered a widespread problem in the area, county Supervisor Ellen Pirie last year came up with the idea to turn a blank wall at the Safeway gas station at the Rancho del Mar Shopping Center into a mural, said Pirie analyst Robin Musitelli.
The Art in Aptos project was started from that idea, she said, to discourage graffiti in places that were vandalized continually.
" Santa Cruz County is a haven for artists, and itís wonderful to show off their work," Musitelli said.
A few adults helped the young artists paint the mural, including Hardin and Pat Emard, Art in Aptos subcommittee chair.
Emard says she is so pleased with the mural that sheís already eyeing the wall on the other side of the freeway for another mural.
"Our hope is to do more," Emard said. "Aptos is a real suburban area and we want to add more heart to it."
She can picture the next mural, she said. It will consist of one big wall made up of several panels of images that represent the community, like surfing and horseback riding.
"Sometimes we just go through our neighborhoods and donít realize thereís a lot of possibilities to brighten things up," she said.